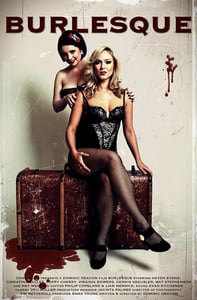 $

20.00
"a surreal nightmare that will have you clambering for more"
- scaryminds.com
DANK Films presents
BURLESQUE
Burlesque "toys with the audience with a devilish grin on its face". A dark ride into the mind of a lonely horror writer, Burlesque takes clever dialogue, an odd assortment of characters and an eclectic soundtrack including music by Brothers Grim & The Blue Murders, Juke Baritone, and Cash Savage & The Last Drinks, to create a neo-noir experience that draws the audience in for the ride...
Frank Bannister is about to have a very long night.
​
A writer of violent horror stories, Frank is alone, depressed and one step from full blown alcoholism. Late one dark and stormy night his quiet hermit existence is disturbed when two eccentric exotic dancers arrive on his doorstep.
​
Alternatively seductive and sinister the beautiful women promise to make all Frank's dreams come true. They prove to be as good as their word.
​
Only problem is, Frank is a man with very dark dreams indeed.
Awards:
WINNER - Best Australian Feature Film, Sexy International Film Festival 2009
WINNER - Best Screenplay, Melbourne Underground Film Festival 2009
WINNER - Best Actress (Sandra Casa), Melbourne Underground Film Festival 2009.
For more information, visit the DANK Films website
NB: Prices are in Australian Dollars
Flat postage rate worldwide
Please allow up to 5 days for delivery within Australia, international delivery will take longer.