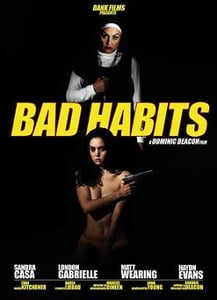 $

20.00
"Erotic and psychosexual... a naughty giallo inspired head trip" severed-cinema.com
DANK Films presents
BAD HABITS
"Stylish and surreal this film reigns supreme in its atmosphere." Bad Habits follows the nocturnal encounters of Sister Marie Fenche (Sanda Casa in an award-winning performance). Violent, surreal, erotic and strange, "Bad Habits takes the nunsploitation genre by its feet and drops it on its head."
A journey through the byways and back alleys of a mind out of balance.
Sister Marie Fenche is a woman on the verge of collapse. Barely able to distinguish reality from fantasy, Marie's life is thrown into turmoil when she awakens one morning, alone with a corpse in the bathrub. Is she being set up of did she kill the man herself? The truth is not even Marie knows for sure.
Awards:
WINNER - Best Guerilla Film, Melbourne Underground Film Festival 2010
WINNER - Best Australian Feature Film, Sexy International Film Festival 2010
For more information, visit the DANK Films website
NB: Prices are in Australian Dollars
Flat postage rate worldwide
Please allow up to 5 days for delivery within Australia, international delivery will take longer.